In five business days, I will leave this store and cease to be an official Brookline Booksmith bookseller. It's such a strange thing to think about, and it hasn't fully settled in my mind, but it's official. I've given my two weeks notice, I've come up with my goodbye present to the store, and my congratulatory new job presents to myself arrived at my apartment a few hours ago. I'm getting my affairs in order and I'm leaving, I'm really leaving.
As much as I'm looking forward to my new job, I already miss this one. I walk into work every day and say hello to my coworkers, who have become some of my best friends in the world. Next week, I won't know if Paul is wearing a bandana that day, or if Shuchi has gotten her hair cut and nobody has noticed except for me, or if something ludicrous happened on the floor yesterday. I won't know if a shipment of event books is late or if a cool new promo poster came in, but I will find out when lentil soup is back in stock at Trader Joe's. I won't know if Anna found her perfect snack, if anyone convinced Amy to get a burrito today, or if Ric went kayaking with his wife. I won't know the myriad of little details that have been imprinted into my mind, ones that have taken me years to learn and predict. Slowly but surely I'll learn new things about new people, but for now? Honestly, is Paul wearing a bandana today? That's my favorite version of Paul.
Brookline Booksmith is hiring right now, and if you're interested you should apply. E-mail Dana Brigham (dana@brooklinebooksmith.com), she's a good judge of character. She's grouped together this staff of booksellers, and she needs a few more. Maybe you'll get to sit in the chair I'm sitting in, be the new person who shelves history, or work in the Giftsmith. Maybe you'll really like hosting events and join our events team. Maybe you'll really like heading to Anna's Taqueria and getting a quesadilla with your new coworkers. Maybe you'll be excellent at puns.
I'll go gently into this good night. Goodbye, Brookline Booksmith. It's been fun.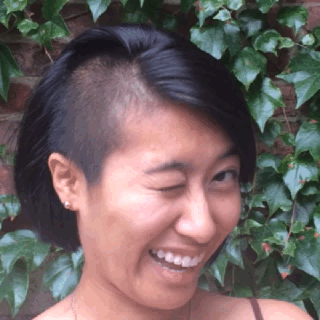 My entire personality whittled down into a gif.