I came back from vacation last week and I'm wistful. My tan is still in peak condition and I have the residual calm that only a vacation can invoke. I'm attempting to hold on to it not by consistently reviewing vacation photos but by talking about the books I read:
Matt Bell's
In the House Upon the Dirt Between the Lake and the Woods
I firmly believe your surroundings influence your reading experience, and my reading of this book is a perfect example. I started out reading it in urban Boston, brought it with me and read a chunk in the mountains of New Hampshire, and finished it after I returned to Boston. I'm grateful for the split--this book is a meditation on love, domesticity and the roles we inhabit in relationships, decorated with beautiful writing, visceral descriptions and concentrated intensity. My journey into the wilderness mirrored the novel's, and I couldn't help but think of the book's vivid setting while I stared at the stars, clear and quiet, feeling like my friend and I were the only people that existed in the world.
Rémi Courgeon's
Brindille
My French is limited to "Bonjour," intense hand signals, and asking my friend to translate for me. Yet--once I laid eyes on this French picture book I had to purchase it, language be damned. It's about the size of my torso and has gorgeous endpapers (the depiction of being punched--how to describe it? It's cool, trust me). I love it.
Gene Luen Yang's The Search, Pt. 2
For all you Avatar: The Last Airbender fans, you'll understand the elation I felt when I found this for sale in a Canadian bookstore a mere two weeks before the official American publication date. My travel companion took a nap, I read the latest Avatar installment, we were both happy.
Kevin Wilson's The Family Fang
Montreal in July is one festival after the other, an exploration of art, business, and really anything you can think of. I'm pretty sure I inadvertently walked into festivals for the following: fireworks, jazz, comedy, circus performance,
start-up
businesses, graffiti, and those are the ones I was aware of.
The Family Fang
was consumed in a variety of places, but mostly in a Montreal hotel room late at night and read aloud while slogging through Boston traffic. The Fang's performance art kept tapping me on the shoulder as I walked around Montreal, as I simply experienced everything rather than questioning the actual definition of what I felt art was, even though this book kept prompting me to think about it.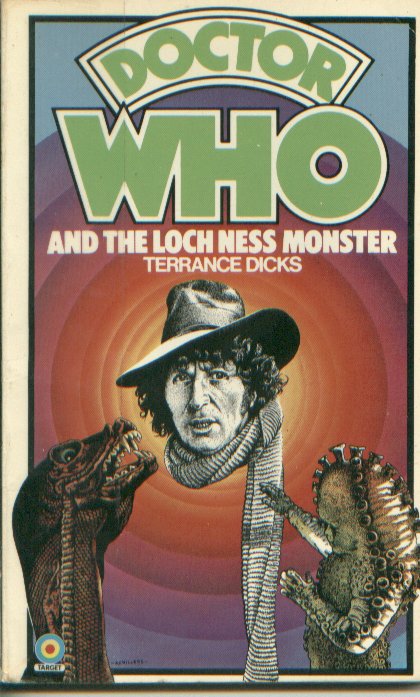 Terrance Dicks' Doctor Who and the Loch Ness Monster
Come on guys, I had to get a mass market in here somewhere. The Fourth Doctor puts on an unnecessarily long tartan scarf to blend in with Scots, there are Zygons controlling the Loch Ness monster, and one of the chapters ends with Sarah Jane Smith exclaiming, "That must be why Broton took the Duke's document case--he's going to attend the Conference!"